Manufacturing Process
Continuous Galvanizing Line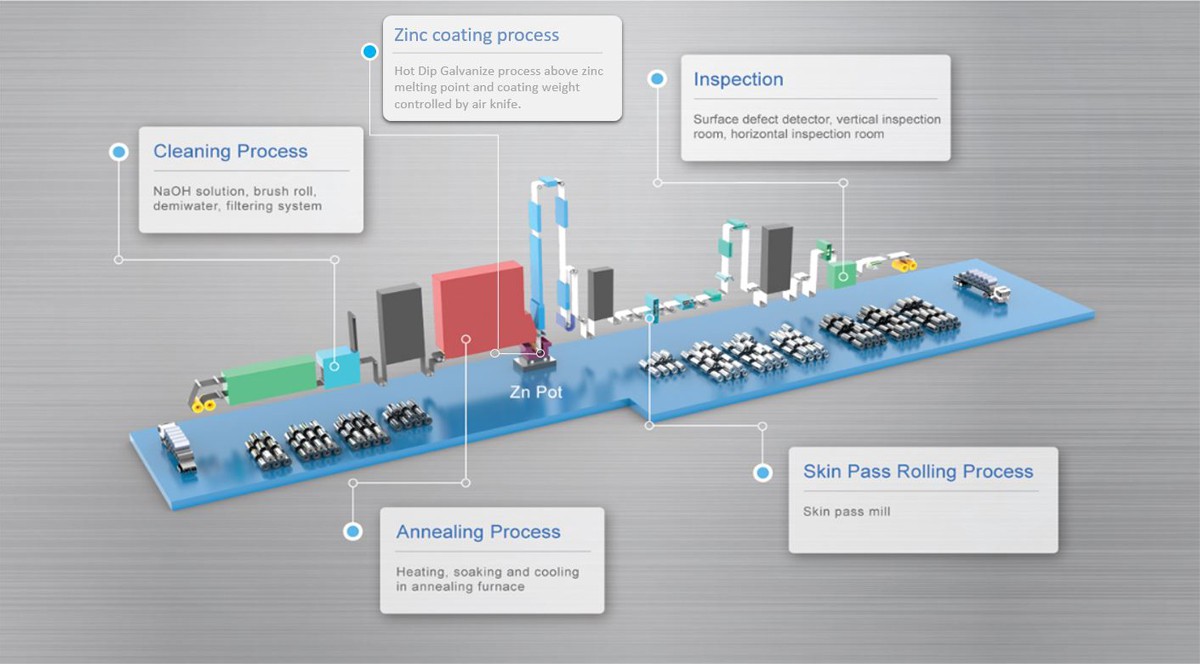 Cleaning
Before annealing and galvanizing process, the emulsion and the abrasion have to be removed. Firstly, strip is immersed through an alkaline cleaning, an electrolytic cleaning and brushing section. Finally, rinses and dry the strip for ensuring the clean surface.

Annealing
The propose of the furnace is to recrystallize the cold rolled strip in order to improve mechanical properties of steel sheet. Cleaned strip from cleaning process runs under the inert gas atmosphere through the annealing furnace. Furnace can divided into 3 part are Heating zone, Soaking zone the strip has to be heated between 700 – 860 °C then cooling zone, the strip will cooling down to proper temperature be zinc coating process.

Zinc coating
Hot dip galvanize process is used to coating molten zinc on the surface of the strip at above molting temperature. To get the coating amount and uniform coating as per customers require air knife is used to control coating thickness by blowing air into strip surface. This process molten zinc will solidify immediately

Skinpass Mill
This process is necessary for achieving the desired mechanical properties by deformation. Maximum elongation is 3% under wet condition. The surface structure and roughness of strip are made by passed through the two work rolls. The SPM EDT (Electro Discharged Texture) work rolls are introduced to work for a high elongation with low force especially for making the products excellent surface. Then the following tension leveller will ensure the optimal strip flatness.

Inspection, Exit section
The inspection procedure is to analyze the strip surface quality and indirectly parallel investigate defects along the inspection lighting at the inspection stand. Before rewinding the coil, strip has to be judged and oiled. The important quality test such as coating adhesion test (e.g. powdering and flaking) and roughness measuring are made in laboratory before coil shipping. Afterwards the coil will be transported to the packing area and the storage yard, standby for shipping to the customer's production such as finishing line, painting line or forming line.
Hot-dip galvanized steel products are now being used in a wide range of automobiles, electrical equipments and other industrial machinery as well as in civil engineering and construction.

Since hot-dip galvanized steel products are characterized in excellent formability, weldability, paintability as well as anti corrosion, they can meet the high quality requirements of the users.

POSCO Coated Steel Thailand (PTCS) will continue to make its best efforts to produce much more superior products.
Capacity
450,000 Ton
Operation
July 2016
Products
Galvanneal (GA), Automobile
Galvanize (GI), Home Appliance
Size
0.3 – 2.3t, 800 – 1860 mm
Grade
Mild Steel, ~590DP